Nothing To Watch
This ElliNude update looks a lot like a vintage erotic show image. Elli is laying on her coloured couch at home, in front of the tv. Watch her exposing her beautiful curves through her white lingerie. She is wearing a special kind of lingerie today, she really looks a lot like vintage porn models. Her outfit consists of white bra and panties, garter belt and silk nylons. Watch her exhibiting her beautiful body, her plump tits and ass and her wet pussy. Then check her out as she is going to start masturbating for you making you all hot and horny. Are you already flustered just by imagining this? She really wants to make all your dirty dreams come true.
Come watch her performing for you and satisfying her lust as well. She is rubbing her pussy slowly at first, then faster and faster, speeding up the pace, inserting her fingers inside as well until she cums hard spilling her sweet juices all over the sofa. Is this hot enough for you or would you like to see more? Come watch her doing some other things also if you are not entirely satisfied yet. Watch her moaning in pleasure as she is stretching out her wet hole for you. She would really like to get a huge throbbing shaft between her legs right now. Are you interesting in such a hot proposal from her? Have fun watching this horny babe!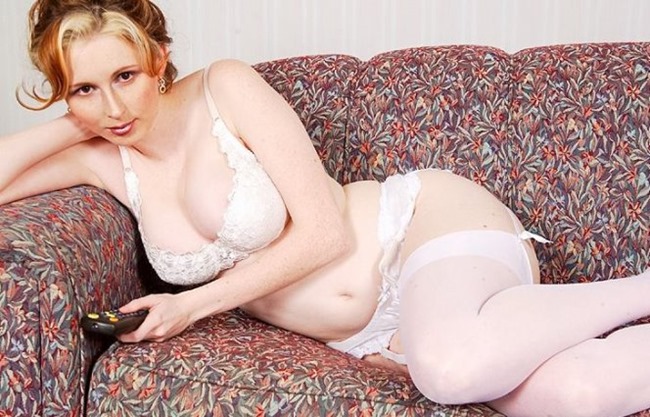 Watch here curvy Elli taking off her sexy white lingerie!